The York University Computer Museum (YUCoM) is a historical collection and a research center for the history of computing in Canada located in the Department of Electrical Engineering and Computer Science, York University.
Visit YUCoM
at York University. Participate in
YUCoM's tours, exhibits, and seminars.
Or browse the
YUCoM collections
on line to learn about the history of computing in Canada. Learn about the
NABU Network reconstruction project
and other historical reconstruction activities at YUCoM.
Do you know that: 50 years ago York University acquired its first digital computer -- the IBM System/360 Model 30. The computer was fully operational the following year.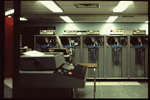 50 years earlier, in 1917, the Canadian subsidiary of the Computer Tabulating Recording Company (CTR, now IBM) was renamed as International Business Machines (IBM). In 2017, YUCoM will celebrate both anniversaries with an IBM@York exhibit.