Mokhtar Aboelaze
---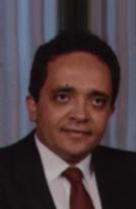 Associate Professor
Mokhtar Aboelaze
Department of Electrical Engineering and Computer Science 
Lassonde Building, room 2026
Phone: (416) 736-2100 ext. 40607
Fax:   (416) 736-5872
my_last_name_at_cse_dot_yorku_dot_ca 


Education
Research Interests
My research interests are in the fields of computer networks, mobile networks, computer architecture, special purpose architecture for image processing..
Prospective students
For graduate studies, please send your application to the graduate school. You can send to me directly any supporting materials if you want to work in my research area, put I will wait to see all the applicants before I can decide to accept anyone.
I receive many requests asking for internship. Sorry I can not accept any. I just have enough funds for my graduate students.
Courses I am usually teaching (if it is not active, I am not teaching it this term)
COSC 3201 Digital Logic Design
COSC 3213 Computer Networks
COSC 4201 Computer Architecture crosslisted with COSC5501 Computer Architecture (graduate course)
ECE 460 Computer Networks for University of Toronto students
COSC4213 Computer Networks II
COSC6590 High-Performance Computer Networks
COSC 5590 Special topics in Hardware Systems (advanced Computer Architecture)

Some Interesting Architecture and Networks Sites
Students (grad and undergrad)

here is an excellent article about how to read a book, it was written by Paul N. Edwards, The school of information, University of Michigan
Here are some sites for starting graduate students

How to write a good system paper

Graduate student survivor guide

How to give a good talk Mark Hil and David Patterson
Misc
The Museum of Unworkable Devices

History of the Tacoma Narrows Bridge

The Dead Grandmother/Exam Syndrome and the Potential Downfall of American Society (testing may be dangerous to students' grandparents health).
An article by Mike Adams: Biology Department, Eastern Con. State University.

What time is it now ? (eastern time zone)



Sports
Boilermakers at CNN Basketball Football

Manchester United

Real Madrid

ZAMALEK page on Wikipedia My favorite soccer team in Egypt.











my_last_name_at_cse_dot_yorku_dot_ca