Images
Here are some images that I've created over the years. If you click on the image you get a high-res version.
Cone Tracing
The following two images were created when I was working on cone tracing in 1984.
Megacycles
The following image is a still from the video "Megacyles" produced with Don Mitchell in 1990.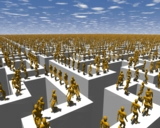 Highlight Antialiasing
The following image shows examples of highlight aliasing along with one solution, clamping.

---
Revised Sept 30, 1999